COMMITTED TO UPHOLDING OUR CLIENTS LEGAL RIGHTS
Providing a broad-base of legal services, we use the full weight of our law firm to tackle any legal challenge you have in your path.
YOUR TRUSTED LEGAL COUNSEL
When faced with a difficult legal situation, you want to make certain you have the best representation and legal team in your corner. At Law Office of Ann Ball P.C., our attorneys and support team are here to ensure you the most sound advice and legal counsel possible.
Nothing is more important to us than upholding your legal rights and ensuring whatever situation you are facing comes to a favorable closing. Whether you are dealing with a difficult family matter, facing a pending law suit, or have recently been injured in an accident, you can count on our unyielding support and experience to be there.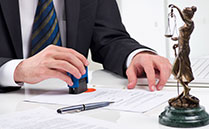 "At his best, man is the noblest of all animals; separated from law and justice he is the worst." - Aristotle
Gov. Andrew Cuomo wants the state comptroller to audit the judiciary as part of his budgetary proposal to certify that judges work eight hours a day. The Democratic governor included a proposal to increase the judiciary's budget by 2.5 percent, if judges would certify that their courtrooms will remain open until 5 p.m. daily in an effort to cut backlogs. Aside from the judiciary's budget, health and education spending are the only areas that have been afforded a spending increase above Cuomo's 2 percent spending cap in a year when the state is expected to face a $4.4 billion deficit.